Hello and welcome to another week of A to Z! I hope you're all staying safe, healthy, and sane!
I'm not an art expert, but I did a little Googling and discovered that the origins of kinetic art go back to the late 19th century Impressionists, such as Monet and Degas, who accentuated the apparent movement of human figures on canvas. This idea continued through op-art and surrealism, where the eye is given the illusion of movement.
But the kinetic art that brings me joy are the three-dimensional pieces--usually mobiles or sculptures--that move either naturally or by motor. American artist Alexander Calder is famous for his mobiles, this one charmingly titled Big Fat Banana:
On a much larger scale, American sculptor Jonathan Borofsky's Hammering Man sculptures in Seattle, Washington, USA; Seoul, South Korea; and Frankfurt, Germany, celebrate working men and women all over the world.


At a park near my house stands this whimsical sculpture called Secret Garden (1999), by artist Gunnar Anderson.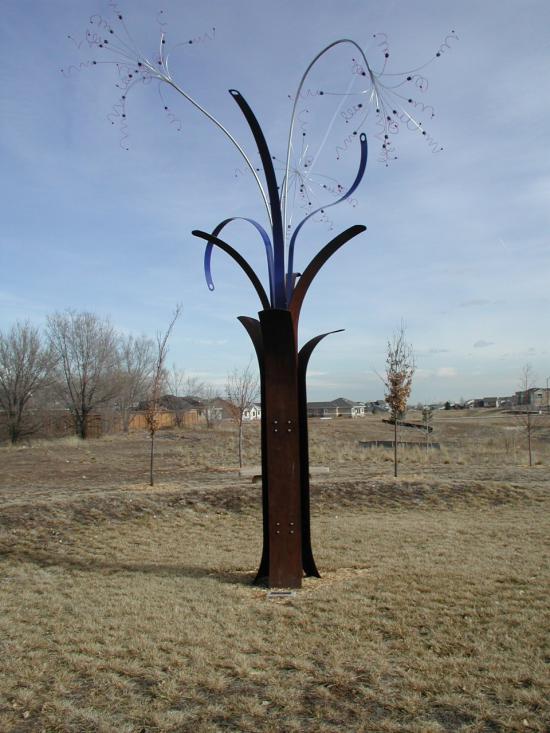 From his artist's statement:
I believe each person's Secret Garden is to be found in their own heart. I imagine this garden to be peaceful, joyous, bigger than life and so real that once visited it will never be forgotten. My hope is that this sculpture in this special place will help inspire a stroll through your own Secret Garden.
I took a short video the other day when the wind was blowing. I hope it gives a sense of this whimsical piece.